Handheld Group CEO, Jerker Hellström, recently featured an article on the future for rugged comuting in SDI Magazine. Here is an extract:
We are going through a radical shift in the way people work and use computers. Increasing availability and affordability of wireless broadband is giving the global workforce true mobility, for the first time in history.
Many of them will use smartly designed mobile rugged computers for their everyday computing and communication needs, instead of traditional laptops.
Another strong trend that drives true mobility is the availability of much improved so-called rugged, or ruggedized, computers. As opposed to traditional, or commercial, computers, these computers are specifically designed to operate reliably in harsh usage environments and conditions, such as strong vibrations, extreme temperatures and wet or dusty conditions.
Traditionally, rugged computers have been used by field workers operating in tough and 'naturally mobile' environments such as logistics, geomatics, forestry, public transportation, construction, mining, public safety and military. But a strong parallel trend is that even 'ordinary' office workers are now also starting to use rugged computers for a life 'on the go' to avoid having to replace commercial laptops or handheld devices or even smartphones so often. Many blue collar workers, like garbage collectors and train staff, have also started using rugged computers and handheld devices to make their work more effective and productive.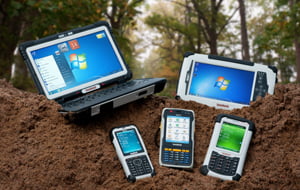 Rugged computers have become much more sophisticated and advanced in the last few years. They now have faster processors to offer better and broader use, and the ability to bring desktop functionality out into the field. Their batteries can work for eight hours on a single charge – a full work day. They may work on any choice of wireless frequency anywhere in the world. They have high quality cameras that allows in field image capture.
Rugged mobile computers have also become much lighter and have much better functionality overall, including better displays and improved ergonomic design – all contributing to an improved user experience. New screen technology provides spectacular screen clarity and brightness in any outdoor condition, even direct sunlight.
Read the full article in SDI Magazine.
Compass Informatics are official dealers for the Hangheld Group range of rugged computers, now being used in a range of applications across Ireland.